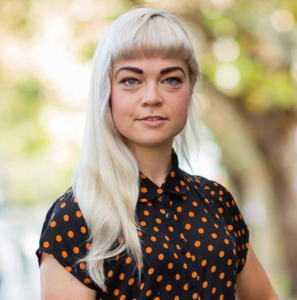 Summary
In today's episode we are joined by Sally-Anne Kellaway via Skype. Sally is the Senior Audio Designer on the Microsoft Mixed Reality – Audio and AI team, and an industry leading VR Audio Evangelist.
She has extensive experience in sound recording, editing, implementation and testing for interactive media in standard and VR/AR and has an interest in implementing true 3D spatial hearing and binaural sound in video games and other interactive experiences. She is the founder of the Virtual Reality Content Creators Network of Australia (VRCC)  which is a not for profit community for virtual reality and associated industries. The VRCC advocates for innovation and connection for all professionals working in virtual, augmented and mixed reality industries in Australia.
Previously the Creative Director at OSSIC, the leading audio technology providers active in the VR space, she has a Masters in Acoustics with a focus on psychoacoustics and spatial audio from the University of Sydney. Sally-Anne is sought after by VR and AR developers, Software and Middleware developers, Conferences, Meetup Groups and Panels to develop and consult on sound design, implementation, tutorials and presentations. She is the Founder of the Women/NB in VR Group for Australia and co-organiser of the San Diego VR community group and is on the AES Technical Committee for Game Audio (Spatial Audio) and on the Diversity and Inclusion Working group.
Sally is a vocal advocate for VR, AR and MR as the future of audio, entertainment and industry and uses her education in Sound Design, Acoustics and Psychoacoustics to rise the tide for all audio professionals passionate about the future.
In this episode, Sally-anne speaks about head-tracking, the future of Audio AR, and diversity in the industry.
Listen To Podcast
Shownotes
Sally-anne Kellaway: http://soundsbysal.weebly.com
University of Sydney: https://sydney.edu.au/
The Virtual Barbershop: https://www.youtube.com/watch?v=IUDTlvagjJA
OSSIC: https://www.ossic.com/
Audio Engineering Society: http://www.aes.org/
Virtual Reality Content Creators of Australia: http://www.vrcc-aus.rocks/
The Wave VR: http://thewavevr.com/
Zero Latency VR: https://www.zerolatencyvr.com/