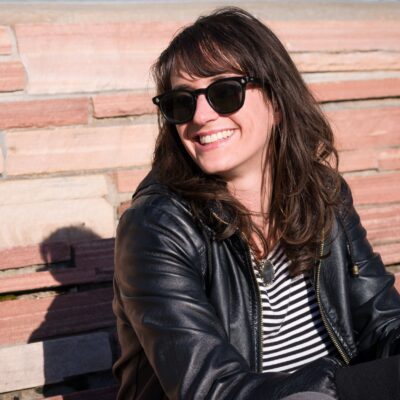 Summary
In this episode of the Immersive Audio Podcast, Oliver Kadel and Bjørn Jacobsen are joined by sound artist Monica Bolles from Denver, US.
Monica Bolles has been working with spatial audio since 2011 when she first gained access to her local planetarium's 15.1 channel surround system. Since then she has been continuously building toolsets in Max MSP to create large textured soundscapes that explore space, movement, and interaction. Tapping into her roots in traditional audio engineering she works with composers and live performers to explore methods of translating their work to spatial environments while exploring the role the audio engineer plays as a performer and musician. As an artist, she has been focusing on building custom instruments that explore data sonification and use gestural control to create improvised spatial audio experiences. As a producer, she puts together teams to build large immersive works that bring together live performance, dance, 360-projections, spatial audio, and other new technologies.  She is also a presenter and host of workshops in her field and has performed in this capacity at SXSW (2019) Ableton Loop (2018), IMERSA Summit (2013-2019), and NIME (2017-2018), among others. Currently, she owns and operates her own company, Resonant Interactions, specializing in immersive experience design.
In this episode, we dive into the topic of spatial audio for domes and planetariums, and Monica expertly covers multiple aspects of this re-emerging industry.
Listen to Podcast
Show Notes
Unreal Engine 5 – https://www.unrealengine.com
Meta Sounds – https://docs.unrealengine.com/5.0/en-US/AudioFeatures/MetaSounds/
Dolby Atmos for Music – https://www.dolby.com/music/
Monica Bolles – http://www.monicabolles.com
Resonant Interactions – http://www.resonantinteractions.com
N/TOPIA – https://vimeo.com/392358059
Orbits – https://vimeo.com/360311936
Collision – https://vimeo.com/437903790
SPAT Revolution – https://www.flux.audio/project/spat-revolution/
IRCAM – https://www.ircam.fr/
Our Patreon
If you enjoy the podcast and would like to show your support please consider becoming a Patreon. Not only are you supporting us, but you will also get special access to bonus content and much more.
Find out more on our official Patreon page – https://www.patreon.com/immersiveaudiopodcast
We thank you kindly in advance!
Survey
We want to hear from you! We really value our community and would appreciate it if you would take our very quick survey and help us make the Immersive Audio Podcast even better: surveymonkey.co.uk/r/3Y9B2MJ Thank you!
Credits
This episode was produced by Oliver Kadel and Emma Rees and included music by Rhythm Scott.