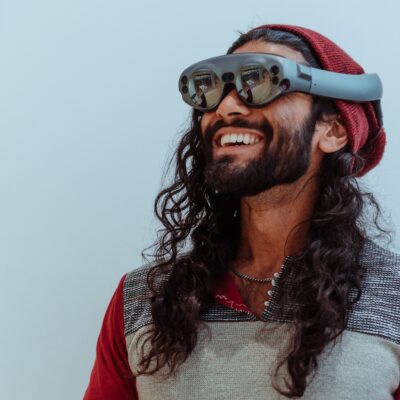 Summary
In this episode of the Immersive Audio Podcast, Oliver Kadel is joined by technical sound designer and XR evangelist Kedar Shashidhar via Zoom from LA, US.
Kedar Shashidhar is an XR creator with a focus on spatial audio design and technologies. With a focus on creative research and development, he has worked to help develop new tools, create content, and explore the boundaries of audio in new realities. Most notably he has contributed to the development of various audio toolsets including Steam Audio, Ossic, and Magic Leap Soundfield Audio. He also formed an indie game studio, Blackout VR, focused on developing audio-only games. Kedar is also an active voice for audio in new realities having previously spoken at Audio Engineering Society, GameSoundCon, Indiecade, and more. In his time at Magic Leap, Kedar was working on bringing the newest innovations in mixed reality audio to content creators in order to continue pushing the boundaries of what is possible for audio in new realities. Currently, Kedar is working on the next generation of virtual venues and concerts in XR with Stage XR.
In this episode, Kedar speaks candidly about his time at Steam Audio, Ossic and Magic Leap, whilst sharing insights on cutting edge tool development for spatial audio and gives personal advice on how to keep high-level creativity and performance whilst maintaining a healthy work-life balance.
Listen to Podcast
Show Notes
Kedar Shashidhar – https://www.linkedin.com/in/kedarshashidhar/
Immersive Audio Podcast Episode 28 – Audio For Augmented Reality – https://www.1618digital.com/immersive-audio-podcast-episode-28-audio-for-augmented-reality/
Steam Audio – https://valvesoftware.github.io/steam-audio/
Ossic – https://www.kickstarter.com/projects/248983394/ossic-x-the-first-3d-audio-headphones-calibrated-t
Magic Leap – https://www.magicleap.com/en-us
Immersive Audio Podcast – Episode 4 Sally-Anne Kellaway – https://www.1618digital.com/immersive-audio-podcast-episode-4-sally-anne-kellaway/
Magic Leap Soundfield Audio – https://developer.magicleap.com/en-us/learn/guides/lumin-sdk-soundfield-audio
AirPods Pro – https://apple.co/3kOCO6h
Royal Shakespeare Experience – https://www.rsc.org.uk/events/magic-leap-seven-ages-of-man
Survey
We want to hear from you! We really value our community and would appreciate it if you would take our very quick survey and help us make the Immersive Audio Podcast even better: surveymonkey.co.uk/r/3Y9B2MJ Thank you!
Credits
This episode was produced by Oliver Kadel and Michelle Chan with the help of Emma Rees and included music by Knobs Bergamo.